Stobart 'disappointed' as drivers reject new offer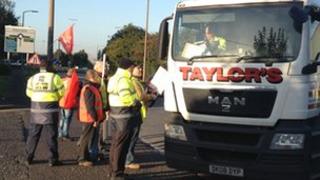 Haulage firm Eddie Stobart has said it is "disappointed" that drivers at a distribution centre in Doncaster have rejected a new offer over job cuts.
Drivers, angry at planned changes to operations at the site, held a 48-hour strike earlier this month.
The Unite union said the decision to reject the latest offer meant further strikes were likely.
Stobart said drivers had "lost out" by rejecting its offer, which included a 28% increase in redundancy pay.
'Not fair'
Stobart took over the operation from Tesco in August and announced a reorganisation in September.
Unite claims a total of 183 lorry drivers' jobs at the Doncaster centre are threatened by the plans.
Fresh talks were held on Friday to try to solve the dispute.
David Pickering, Eddie Stobart managing director, said: "Our enhanced financial package was worth an additional £1m and we feel the drivers have really lost out with the latest decision from Unite."
He added the firm had offered to increase redundancy pay by 28% and had offered significant financial support for drivers who took alternative jobs with either Tesco or Stobart.
Unite said members did not believe the offer was a fair one.