Row over Sheffield Edwardian hospital wing demolition plan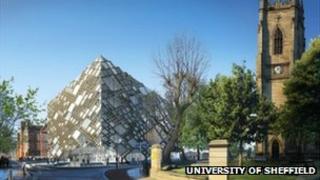 Plans by a university to demolish an Edwardian wing of an old hospital to make way for an £80m engineering department have been criticised.
The University of Sheffield wants to build the block on the site of the former Jessop Hospital.
The Victorian Society say the plan would cause harm to the setting of the surviving Victorian wing.
The university said it tried to include the Edwardian facade of the building in its plans, but it was unsuitable.
James Hughes, a conservation adviser for the society, described the Edwardian wing as "thoughtfully crafted and handsome".
Extensive consultation
He said: "The Victorian wing as it is was restored a few years ago, it now is a wonderfully functioning music department.
"That provides a great example of what they could do with the Edwardian wing.
"it's structurally sound, it's eminently convertible and you still have an enormous site at the back of it to provide a large building.
"I think that both groups can be happy here. You can retain the building and provide a top-notch engineering department."
Keith Lilley, the university's director of estates, said hundreds of thousands of pounds had been spent trying to draw up suitable plans which included the Edwardian facade.
He said: "We simply cannot get the space that we require by retaining the facade and also because the facade is very inflexible... we would have had to have cut a very large hole in the front to put lots of doors in for our students to get in and out.
"We are sympathetic to people's views, we've consulted extensively and it's important to listen to the views of Sheffield but we have also heard very clearly the arguments about jobs, investment in the economic climate and we think that's of much greater importance."
Sheffield City Council's planning committee will discuss the university's application next month.