Casey Kearney's killer Hannah Bonser: 'Missed opportunities'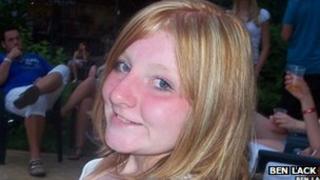 The care of a woman with mental health problems who murdered a 13-year-old was "fragmented" and agencies "missed opportunities" to help, a report says.
Hannah Bonser, 26, stabbed Casey Kearney on 14 February in an unprovoked attack in Elmfield Park, Doncaster.
She was found guilty of murder in July and jailed for life.
An independent review into the care she received found she was "almost invisible" to some services and she was not "listened to" as a child or adult.
The author of the report, Prof Pat Cantrill, made 21 recommendations for the NHS, children's services in Doncaster and other organisations.
The report said processes needed to be reviewed and training improved.
However, she emphasised that it was Bonser's actions that led to Miss Kearney's death, and she was found guilty of murder - not manslaughter as a result of diminished responsibility.
Bonser's contact with mental health services began in 2002, and over the next ten years she saw 16 different psychiatrists and 20 community workers.
The month before she carried out the fatal attack she told mental health services in Doncaster that she needed to be "locked up", and was given crisis accommodation.
Bonser was discharged by the home treatment team on 30 January, but Prof Cantrill said there was "no convincing evidence" that her mental state had improved by then.
'Major mistake'
Christine Bain, chief executive of Rotherham Doncaster and South Humber NHS Foundation Trust (RDASH) said: "We accept all the findings and recommendations made following this investigation and we acknowledge that our service to Miss Bonser should have been much better."
The review said a "major mistake" was made by children's services when several people, including Bonser's GP, notified them that they suspected she was being neglected by her parents when she was eight years old.
There was no child protection investigation, but she was put into care when she was 13 and had six different foster care placements and nine social workers before she became homeless at 16.
The review said at this stage she was "drinking, self-harming and using cannabis".
Christ Pratt, director of the Children and Young People's Service at Doncaster Council, said: "It's clear, and we fully agree, that we did not understand the full extent of neglect that was happening in Miss Bonser's early home life - and this mirrors the broken nature of children's services historically.
"As outlined in the recommendations - and as evidenced in our most recent Ofsted report - we know there's a lot more to be done."
In a report earlier this month Ofsted said some of Doncaster's most vulnerable children were being put at risk by poor standards of council care.
Prof Cantrill's report was commissioned by NHS Doncaster following the trial of Hannah Bonser in July.