Sheffield Forgemasters to get giant scorpion sculpture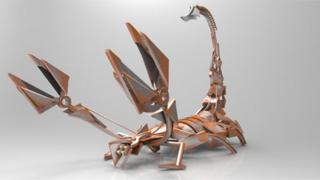 Planning permission has been granted for a steel sculpture of a scorpion standing 17ft (4m) high at the entrance to a South Yorkshire engineering firm.
The sculpture at Sheffield Forgemasters is to be built by the company's apprentices using recycled materials found on the 64-acre site.
Sheffield City Council has given permission for the sculpture at an entrance on Brightside Lane.
The company said the finished scorpion would create a striking display.
It will feature a pair of grasping claws with a segmented tail in a curve ending in a stinger and was designed by sculptor Robin Widdowson.
The recycled metal used would give it a weathered appearance.
A city landmark
The team of 21 volunteer apprentices will take four months to complete the sculpture and it is expected to be finished in Spring 2013.
The apprentices have been on an inspirational tour of the Yorkshire Sculpture Park.
Rick Franckeiss, the company's training officer, said: "This is not just about making a piece of artwork, we are giving the apprentices the chance to take part in a team building project".
Forgemasters' chief executive Graham Honeyman said the piece of contemporary public art would become a landmark for the city.