Jobless champion dubs employing long-term unemployed 'risky'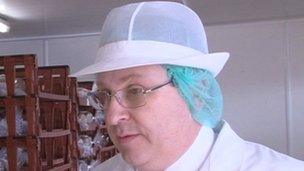 A South Yorkshire businessman honoured by the Queen for his work with the unemployed has said taking on the long-term jobless is too risky.
John Foster, who was appointed an MBE for services to the unemployed in South Yorkshire in 2011, said many jobless people were not "work-ready".
He said the law should be changed to allow "no-fault dismissals".
Bill Adams, TUC regional secretary, said the long-term jobless should be supported, not "put on the scrap heap".
Mr Foster, who owns and runs a bakery in Barnsley, is chairman of the town's Work and Skills Board which aims to help people find employment and teaches new skills.
While he had recently taken on a number of "fantastic" people who had previously been long-term unemployed, too many did not have the "stamina" to do a full day's work, he said.
"It's a risk, that's the difficulty. When somebody's been inactive for a long time they are not used to working.
"It's a bit like running a marathon. You've got to build up to it."
A new "no-fault dismissal" regulation recommended in a government-commissioned report earlier this year by venture capitalist Adrian Beecroft should be made law, said Mr Foster.
"It's all about de-risking. It's about a business taking somebody on and when it's just not working out, it's the ability to say that."
Bill Adams, from the TUC in Yorkshire and the Humber, said employers already had two years in which to assess new workers before they gained protection from unfair dismissal.
When people had been unemployed for long periods, they did sometimes lose confidence and discipline, said Mr Adams.
"But while people are unemployed for a long time, they should not be put on the scrap heap. They need to learn their rights and their responsibilities but they should be helped."
Steve Palmer, from Barnsley Community Build, which teaches construction skills to young people who have never worked, said while employment was often a "culture shock", most were willing to work hard if given the chance.
"They're not work-ready, that is the biggest hurdle. The vast majority do respond to general coaxing, though others do need a stronger hand."
Related Internet Links
The BBC is not responsible for the content of external sites.