Doncaster lorry drivers strike again in Stobart dispute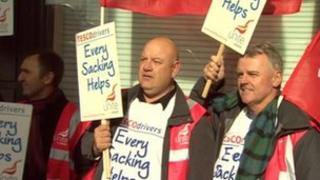 Lorry drivers at a distribution centre in South Yorkshire have walked out indefinitely in a long-running dispute with their employer Eddie Stobart.
The Unite union said its members were taking continuous strike action "in order to save their jobs".
The firm announced a reorganisation in September after it took over the Tesco distribution centre in Doncaster. Unite said the move threatened 183 jobs.
Eddie Stobart said its offer was "the best possible financial package".
Managing director David Pickering said it had proposed a 50% increase in statutory redundancy pay "which would have seen them benefit from significant financial support".
'Genuine goodwill'
Unite said the drivers felt they had been "boxed into a corner" by the company.
National officer Adrian Jones said: "The drivers overwhelmingly rejected the financial offer which was designed to get them out the door and not to maintain employment.
"Unite is prepared to continue negotiating with the company, but there has to be genuine goodwill shown and constructive proposals on the table from the management."
Five days of strike action have already been held since the dispute began in September.
In the latest industrial action, which started just after midnight, Unite said its members were planning to hold a demonstration and rally at its Doncaster Tesco store on Church Street on Saturday.
A spokesperson from Tesco said: "We have robust contingency plans in place to ensure that our customers and stores in the Doncaster area won't be disrupted by the industrial action."