South Yorkshire Police concerns over 'desperation' thefts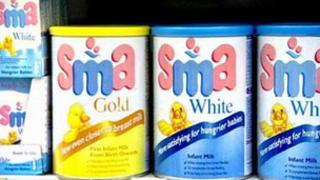 There are concerns that growing numbers of people, including young mothers, are stealing out of desperation, according to South Yorkshire Police.
Its officers say shoplifters increasingly appear to be targeting essential items such as groceries, rather than luxury goods.
There were almost 350,000 cases of shoplifting recorded by police in the UK last year and that figure has remained relatively steady over recent years.
However, South Yorkshire Police and a number of other forces say there have been marked increases in some more deprived areas.
It is not clear whether this trend is developing across the UK as a whole, but Greater Manchester Police and the Strathclyde force have both said it has been detected in their areas, though no exact figures are available.
In Rotherham, crime has increased by 28% in the last 12 months and the town's district commander believes that rise has been fuelled by the economic downturn.
Baby food
"What we are seeing is a small number of individuals - particularly young mums - who are committing crimes to feed their children," said Ch Supt Jason Harwin.
"If you look at powdered milk or baby food it's quite expensive.
"These are individuals that have had no dealings with the police in their lives and this is the first offence they've ever committed."
Many people when questioned in the town said they realised families were finding it difficult to balance their household budgets, but they insisted there was never any excuse for theft.
"There are some places that will help you with things like food vouchers - I get some help," said Marcus, who admitted to shoplifting in the past to support a drug habit.
Having been to prison he insisted he would never commit the crime again.
"I have a 10-and-a-half-month old daughter so I'm a changed person for the better."
Cost to business
The police say their primary problems with shoplifting involve serial offenders who steal to order or to support their addictions.
But the cost to business is huge. The Centre for Retail Research estimates that in the six weeks to Christmas the crime will cost stores in the UK more than £500m.
"I think people have the idea that if somebody steals something worth £5 the shop has to find five pounds somewhere else," said George Elliott, of Rotherham Voice, which is a business group.
"It is actually worse than that - they have to make £5 of profit.
"It affects prices in the stores so at the very, very basic level customers will have to pay more because of the theft."
The Rotherham Food Bank does try to help families who are finding it difficult to make ends meet.
On the shelves alongside the tins and cans, they are now stocking nappies.
"One father came in and said if I get some food and nappies then I won't have to go down to the shop and steal, because I haven't got anything," said Pastor Danny Miller, of Hope Church, who runs the food bank.
"Some people are getting so desperate these petty crimes are taking place."
However both the police and businesses insist it is a crime they take seriously and that anyone caught shoplifting will be prosecuted.