Alan Greaves murder: Vicar's shock at 'brutal' attack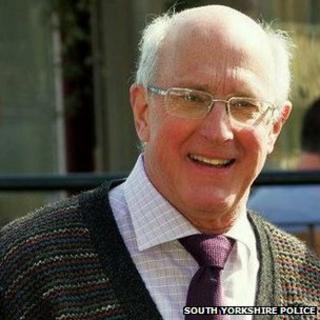 A vicar has described the murder of his church organist as a "random" act of "senseless violence".
Alan Greaves, 68, of High Green, Sheffield, was walking to church on Christmas Eve when he was attacked. He died in hospital two days later.
The Reverend Canon Simon Bessant from St Saviour's Church said Mr Greaves' wallet had not been taken and the level of violence used was hard to imagine.
South Yorkshire Police said there was no apparent motive for the attack.
The father-of-four was found on a pavement near his home on Greengate Lane with a head injury at about 23:15 GMT on Monday.
He died on Thursday evening after being treated at the city's Northern General Hospital.
'Violent assault'
Mr Greaves had been making his way to the church as he was due to play the organ at a Christmas Eve service.
Mr Bessant, who worked closely with Mr Greaves and his wife Maureen, said he had been surprised when he did not arrive.
He only learnt what had happened when he was contacted by the Greaves family on Christmas Day.
"This doesn't make any sense. Why can't someone walk down the streets on Christmas Eve. It is not a dangerous area.
"It feels totally senseless and pointless and the level of violence used is really hard to imagine. It looks like he was the wrong person in the wrong place at the wrong time.
"His wallet wasn't stolen and as far as we can tell there was no intent to rob," he said.
Mr Bessant said the community had been appalled by the incident.
"I find it hard to imagine why someone should be walking the streets on Christmas Eve with some sort of weapon to cause terrible harm. That is what makes it so senseless.
"There has been a huge reaction I have had people coming to the door in tears. People knew him well. He was a bit of a grandfather figure to many people and he had a lot of respect from many folk."
Det Supt Matt Fenwick, senior investigating officer in the case, said: "Mr Greaves appears to have suffered a brutal attack after leaving his home address to attend Midnight Mass. At this stage, the motive is unclear.
"I want to hear from anyone who witnessed the incident. If you know who did this, please come forward and offer your support to the family at this difficult time."