Sheffield Arena to have multi-million pound facelift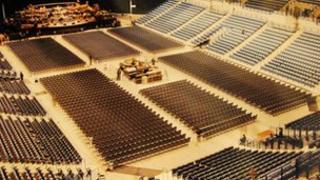 Sheffield Arena is to have its first major upgrade since it opened in 1991, with a new roof and seating planned.
The venue's operators, Sheffield International Venues (SIV), said the work would be completed before the new Leeds Arena opens in September.
Deputy chief executive Andrew Snelling said: "We're very keen to do it before Leeds opens, but we've been planning to do this for some time."
SIV said it was a multi-million pound capital investment.
The arena's 12,500 seats will be replaced in July and August and energy efficient lighting will be installed.
Mr Snelling said the upgrade would give the "aging building" a "fresher, more modern approach" as it faces increased competition.
He said: "The arena contributes every year to running other sporting and leisure facilities across the city.
"We need to put in this capital investment or we run the risk of losing some of our ability to do that."
SIV runs 14 venues in Sheffield, including Don Valley Stadium and Stocksbridge Leisure Centre, which could both close due to council spending cuts.