Sheffield traders' new market deadline move extended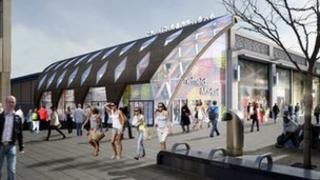 Traders have been given extra time to apply for stalls at a new Sheffield market after only 26 applications out of 108 were returned.
The new complex on The Moor will see Castle Market close, despite objections by some traders about high rent costs.
Sheffield City Council estimates about 90 stalls need to be taken to make the £17.5m venue a success.
Andy Ward, market manager, said he was confident enough stalls would be taken before the end of the year opening.
Fruit and veg trader David Burns said it would cost him three times more to rent space in the new market.
"The amount of room I occupy now I pay approximately £850 per calendar month," he said.
'Give it a go'
"For me to run that operation down in the bottom of the Moor it would cost me three times more so £2,500 to £3,000 per month."
Mr Burns said he would not be moving to the new site.
"I've got five members of staff that have got to find new jobs.
"I've been waiting 16 years for a new market. I was 45 at the time, I'm 62 now. I'm not prepared to put £20,000 of my own money into a venture [when] I can see two years down the line, when the full rents are implemented, that the market will be empty."
Butcher John Galley said there was "a lot of ill feeling" among traders who did not want to move.
He said he had applied to move but was not "enthusiastic".
"A lot of people don't think it's viable with rent rates and service charges.
"I'm going to give it a go, if it doesn't work it doesn't work."
The council has said the scheme would help regenerate the city and the rents would reflect the cost of building the new facility.
The initial deadline of 22 February for applications has now been extended to 22 March.