Don Valley Stadium closure: Athletics clubs back 'contingency plan'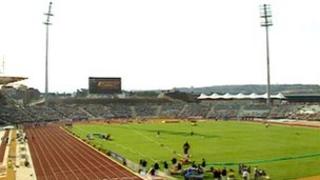 A plan to re-open a smaller athletics facility in Sheffield once the Don Valley Stadium closes has been backed by the city's main athletics clubs.
The council's £700,000 a year subsidy of Jessica Ennis's training ground is to end as part of £50m budget cuts.
Instead it will re-open the Woodbourn Road Athletics Stadium.
Mike Corden, chairman of City of Sheffield Athletic Club, said efforts needed to be focused on making that "contingency plan" work.
Mr Corden told BBC Radio Sheffield his club had agreed with the city's other major track and field club, Hallamshire Harriers, to "ensure that (Woodbourn Road) is the best facility available for the money we can raise".
Online petition
Woodbourn Road was closed in 2011 and the council has estimated the cost of refurbishing the stadium will be £150,000, with a £70,000 a year running cost.
On Saturday, Olympic heptathlon champion Ennis's coach Toni Minichiello described the plan to re-open the smaller site as "pathetic" and said the closure of Don Valley meant athletics was "close to dead" in Sheffield.
More than 2,000 people have signed an online petition calling for Don Valley to remain open.
But Mr Corden said the cost had to be taken into account. He said: "If the council's right and it's going to cost millions in the years to come, then the Sheffield rate payers will finish up paying that money.
"In September, if Don Valley is not there, my job and the job of my committee is to ensure we have a contingency plan so all those hundreds and hundreds of youngsters have a place where they can train."
Sheffield City Council has not yet decided what will happen to Don Valley Stadium once it closes in September.