Meg Munn MP criticises South Yorkshire M1 hard shoulder plan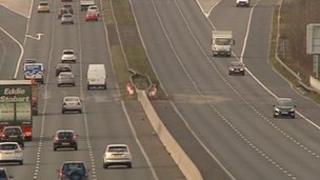 An MP has described plans to use part of the hard shoulder of the M1 motorway in South Yorkshire as a traffic lane as "dangerous".
Sheffield Heeley's Labour MP, Meg Munn, has called a parliamentary debate on the Highways Agency plan to allow drivers to use the hard shoulder between junctions 32 and 35.
Ms Munn described the plan as "not necessary".
The Highways Agency said the change would not affect safety.
The proposal is part of a "managed motorway" scheme which aims to reduce traffic congestion.
The hard shoulder would be in use 24 hours a day, unlike other schemes in England which restrict use to peak hours.
'Cheap way'
Ms Munn described the plan as "a cheap way to widen the motorway".
"I'm not against the use of the hard shoulder at peak times", she said.
"What I'm very, very concerned about is if you use the hard shoulder the rest of the time."
She added: "If a car breaks down late at night on the former hard shoulder, passengers and drivers don't stand a chance.
"There will be nowhere for them to move to quickly and safely, especially when visibility is poor or where the motorway is unlit. I'm worried that drivers might not see a danger ahead until it's too late."
The Highways Agency said: "Based on a risk assessment we have done, the overall safety of this stretch of the M1 near Sheffield is predicted to be better than it is today.
"Once completed, road users will also experience less congestion and have more reliable journey times."
Ch Insp Stuart Walne, head of roads policing for South Yorkshire, has warned of "fundamental operational difficulties" with the scheme.