Don Valley Stadium closure: Coe 'understands' decision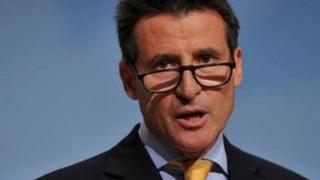 London Olympic chief Lord Coe believes the closure of Don Valley Stadium should not be viewed as a blow to building a positive 2012 legacy.
The Sheffield athletics venue, where Olympic champion Jessica Ennis trains, is to be demolished as a council cost-cutting measure.
Ennis's coach Toni Minichiello said the move will be a major setback for the sport in the Sheffield area.
But, Lord Coe said he could understand the council's situation.
He said he could sympathise with Sheffield City Council's view of Don Valley Stadium, which has taken £700,000 of subsidies in this financial year, as a drain on resources.
'Thoughtful proposal'
Lord Coe also said the proposal he had seen for redevelopment work at the smaller Woodbourn Road Stadium nearby was "thoughtful", and the whole situation could potentially represent an important step in the right direction in terms of legacy after last summer's London Games.
Speaking in Rio de Janeiro, Lord Coe said: "If you have a stadium in Sheffield, where there is clearly not a commitment locally to be a home for international track and field, and it is a 25,000-seater facility, I can understand why a local authority has to look at that and make some decisions.
"If the refurbishment of Woodbourn Road, which I'm told is an integral part of the development, takes place, then that is a purpose-built track and field facility - and you have to assume that is going to be the proposal. But I'm not sitting there making those judgements.
"There is a legacy there, and it is actually quite a strong one, but this is for a local authority to decide."
Local level decisions like this, should not be seen as a "sign that legacy isn't working", he explained stating it was a "very simplistic" way of looking at it.
"People will make all sorts of judgements," he added. "I have seen the proposal and it is actually quite a thoughtful one, and it is not quite the way it is being portrayed, as the loss of a track and field facility."