Sheffield city centre building collapse prompts rescues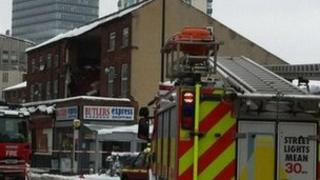 Four people have been rescued after a three-storey building collapsed in Sheffield city centre.
The mid-terrace building, in Brook Hill, came down at about 14:30 GMT.
South Yorkshire Fire Service confirmed that after the four were rescued, no-one else was found in the rubble.
"A middle section of a row of shops, with flats above, has completely collapsed," a spokesman said. No-one is thought to have suffered any serious injuries.
There was no explosion or fire at the scene, the fire service said.
Empty restaurant destroyed
"We had crews on scene very quickly and they were faced with a huge hole in the middle of the three-storey terraced building," said incident commander Stuart Nicholson.
"The first and second floors had collapsed onto the ground floor."
A man and a woman, understood to have been living in one of the flats, were taken to Northern General Hospital. Their injuries are not thought to be life-threatening.
The other two casualties did not need hospital treatment; fire service believes they are workmen who were working on the property at the time of the collapse.
A ground floor restaurant that was destroyed in the collapse was no longer in use.