Sheffield plan aims to close £1.6bn 'prosperity gap'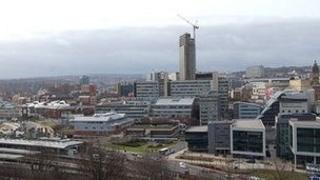 Sheffield's economy is delivering £1.6bn less than it could do and is too reliant on public sector jobs, a new report has claimed.
The document, drawn up by Sheffield City Council, aims to boost employment by promoting the city as a "brand" and encouraging private firms to set up.
Areas identified for growth include the sports and creative industries.
The report, which is part of a plan to regenerate the city by 2020, will be discussed at a council meeting later.
The plan sets a number of targets including reducing unemployment and boosting wages.
'Major opportunities'
The city's reliance on small companies, which it says make up 99% of businesses in Sheffield is highlighted in the report.
One area of concern raised is the lack of national and international trading, "with more than half of Sheffield companies conducting at least 80% of their business in the city itself."
The report claims Sheffield "lags behind other cities in terms of overall competitiveness".
Investments aimed at boosting business growth include spending £2bn on improving the city's road network and the opening later this year of a University Technical College specialising in advanced engineering and digital media training.
Councillor Leigh Bramall, the city council's cabinet member for business, skills and development, said: "This strategy has identified the opportunities for Sheffield to develop business in the city by all partners working closely together.
"It will focus our minds on the things that will drive the city forward through this tough period for businesses so that we can take advantage of the major opportunities that do exist."