Sheffield footballers to open £2.5m youth centre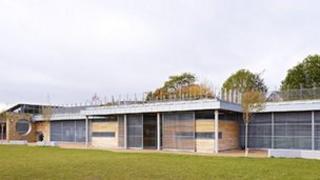 Players from Sheffield's two professional football teams will take part in the opening ceremony of a £2.5m youth centre.
The U-Mix centre, on Bramall Lane, is run by local charity Football Unites Racism Divides (FURD).
FURD is a community project which works to "increase understanding between different communities".
The centre, which opens at 13:00 BST, was funded by lottery cash and a Football Foundation grant of £350,000.
Located close to Sheffield United's ground, the centre is built into a hillside and has a floodlit football pitch, outdoor play equipment, a dance studio and a recording studio.
As well as the sports and arts facilities, the centre hosts an archive dedicated to Arthur Wharton, who was Britain's first ever black professional footballer.
Wharton played as goalkeeper for Rotherham United and Sheffield United in the 1890s.
He died in poverty in 1930 and is buried in Edlington Cemetery in Doncaster.
In 1997 FURD paid for a headstone on his unmarked grave.