Maltby pub death: Daniel Gerrard jailed for manslaughter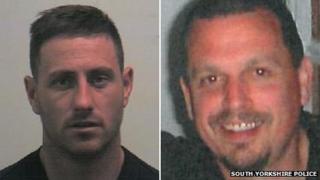 A former professional boxer has been jailed for six years after killing a father-of-three in a fight at a pub.
Robert Hurdley, 45, suffered a head injury at the Don John pub in Maltby on 14 October, and was pronounced dead on arrival at Rotherham Hospital.
Daniel Gerrard, 30, of Highfield Park, Maltby, was sentenced at Sheffield Crown Court after pleading guilty to manslaughter and affray.
Mr Hurdley's family said they were "disappointed" with the sentence.
'Lenient sentence'
In a statement they said: "14 October will remain the darkest day in the life of our family, Rob's friends, work colleagues and his beloved Dinnington Rugby Club.
"This was the day that Rob Hurdley was taken away from us because of the aggression and violence of Daniel Gerrard.
"We are disappointed in the strongest terms with the leniency of his sentence and feel a review of the judicial system is required."
Det Supt Lisa Ray, of South Yorkshire Police, said: "This was an unprovoked and brutal attack upon a family man out drinking with friends.
"His death leaves his wife, young children and wider family and friends devastated, no sentence is enough to replace their loss."
Gerrard, a middleweight boxer, won two professional matches in 2010 and 2011.