Solar Centre workers 'tormented' disabled patients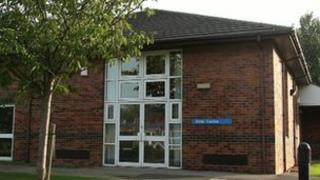 Four health workers assaulted, abused and tormented severely disabled patients at a day care centre in Doncaster, a jury has heard.
Susan Murphy, Michael Barnard, James Hinds and Julie Burge worked at the Solar Centre at St Catherine's Hospital at the time of the alleged offences, Sheffield Crown Court heard.
Between them they are charged with 52 counts of mistreating 17 vulnerable adults in their care.
All four deny the charges.
'Target practice'
Many of the patients had a range of physical disabilities including blindness.
The prosecution described how some were slapped and punched, while others were yanked out of wheelchairs or thrown into ball pools.
Prosecutor Sarah Wright said patient Michael Kime, who has severe learning difficulties and epilepsy, was used as "target practice" by care assistant Mr Hinds, 59, and physiotherapist Mr Barnard, 49, who threw cushions at him.
She also told the jury how Mr Hinds and care assistant Ms Murphy, 43, both slapped patient Maxine Hughes.
Ms Hughes was in her early 40s and has severe learning difficulties, epilepsy and scarring from severe burns when she was a child.
"James Hinds used to laugh, to say the marks couldn't be seen because of the scarring to her face," Miss Wright said.
'Kicked in wheelchair'
Miss Wright also told the court how Mr Hinds and Ms Murphy locked patient Marilyn Britton in a cupboard.
"James Hinds actually put Richie Rowe in his wheelchair against the door to stop her getting out," she said.
She said Mr Hinds and Mr Barnard kicked Mr Rowe in his wheelchair "backwards and forwards between them and they both threw him into a ball pool".
Other staff at the centre felt the four defendants ran the unit "as they wanted" and they felt unable to speak out, the court heard.
Police were called after one staff member decided to leave in March 2007 and made formal allegations of the mistreatment of patients.
Mr Hinds denies 22 counts of ill-treating a patient, Ms Murphy denies 19 counts of the same charge, Mr Barnard denies seven counts and Ms Burge, 48, denies three counts.
Ms Murphy also denies one count of wilfully neglecting a patient.
All the charges relate to the period between January 2005 and March 2007.