Stocksbridge Leisure Centre decision deferred by court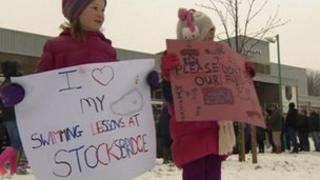 A court has deferred a decision on whether Sheffield City Council should be allowed to shut Stocksbridge Leisure Centre.
A group of campaigners hoping to keep the centre open took their case to the Administrative Court in Leeds.
Sheffield City Council intends to stop funding the leisure centre as part of a £50m cuts programme in the 2013-2014 budget.
The campaign group 4SLC wants the local community to take over the centre.
The council says the centre is costly and has falling visitor numbers.
Faye Howard of 4SLC said the group's plans had been delivered to the council within the deadline.
'Gradual transition'
She said there was a "real depth of feeling" about the closure of the centre as it "was largely built on public subscription, so we really do care".
Ms Howard said the campaigners would need help from the council and owner Sheffield International Venues in the short term, with a "gradual transition" so the community could take over the centre.
Chris Fry, managing partner at Unity Law, who is conducting the campaigners' legal case, said the centre was due to close on 1 May and he feared both the facilities and staff would be dispersed.
But Councillor Isobel Bowler, who is responsible for culture, sport and leisure in the city, said: "We have always been and remain committed to working with 4SLC and others in the community to find an affordable and sustainable leisure offer in Stocksbridge.
"That has not changed. Mothballing is an essential part of this process because of the significant financial pressure the council is under.
"The massive cuts to our budget this year have required us to make many difficult decisions, including the decision to withdraw subsidy from the leisure centre on 10 April."
The city council said the legal action was "unnecessary and a distraction".
Other council proposals include the closure of libraries and the Don Valley Stadium.