Barnsley police patrols stepped up for Hull football match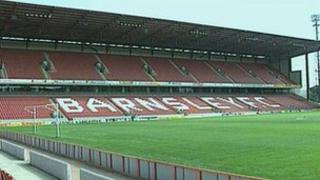 Numbers of police officers on duty have been stepped up in Barnsley as the town's football club takes on Hull City in a vital Championship game.
Depending on results elsewhere the match, kicking off at 15:00 BST, could see the South Yorkshire club relegated and Hull City clinching promotion.
City said that more than 5,000 supporters have travelled to the match.
South Yorkshire Police said they wanted to ensure "minimal disorder."
'Friendly rivalry'
Temporary Supt Scott Green, police commander for the match, said: "We appreciate the passion involved in supporting a football club and welcome friendly rivalry, especially the last home game of the season.
"Unlike previous years, I am asking the Barnsley fans to remain in the stands and not go on the pitch after the final whistle.
"We understand that this has become a tradition in previous years however, Barnsley players will not be coming back out unless the pitch is clear.
"Anyone entering the pitch may be arrested and South Yorkshire Police may additionally seek a football banning order."
Police said Barnsley town centre will be busier than usual because of a number of events taking place and that there could be disruption to parking and public transport.