Sheffield hospital demolition plans face legal threat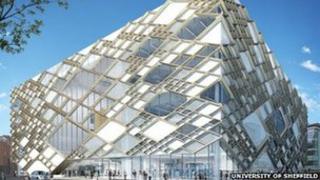 Campaigners have threatened to take legal action against Sheffield City Council over plans to demolish the Edwardian wing of a former hospital.
SAVE Britain's Heritage (SBH) said the council had "misinterpreted" national planning policy regarding the Jessop Hospital, and called for a review.
The University of Sheffield wants to knock down the Grade II-listed wing to build a new engineering department.
The council said it would assert its right to act if challenged.
'Outweigh harm'
A council spokesperson said: "Sheffield City Council has taken legal advice and has been advised not to comment at the present time. But it will defend its position if raised in court."
Clem Cecil, director of SBH, said she believed the council had failed to meet a requirement of the National Planning Policy Framework that the "public benefit" of knocking down a listed building must "outweigh the harm".
She said: "In the pre-action letter that we've written to the council we are asking them to reconsider their decision and if they refuse to it could go to judicial review.
"We believe in their decision that they have had disregard, they've misinterpreted, national planning policy and so, in that case, it deserves to be reviewed in court if national law has been misinterpreted or misapplied."
The University of Sheffield has said it hopes to open the £81m building by 2016. It spent hundreds of thousands of pounds trying to incorporate the Edwardian facade in its plans, but concluded it was not feasible.