Sheffield ski centre fire police arrest two teenagers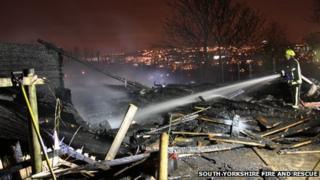 Two teenage boys have been arrested in connection with an alleged arson attack at Sheffield Ski Village.
A 17-year-old and a 15-year-old have been questioned by officers about Wednesday's fire and released on bail.
The blaze at the Vale Road site, which destroyed a shed and two outbuildings, came a year after the site's main building was destroyed by fire.
A third boy, also 15, was arrested on Wednesday, the day of the fire, before being released on bail.