South Yorkshire advertises for strike firefighters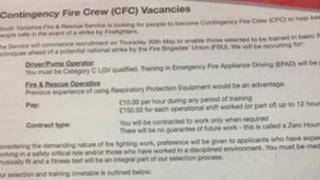 A fire service has advertised in newspapers for "contingency fire crew" ahead of a possible national strike this summer.
South Yorkshire Fire Service (SYFS) said the move was in case of a strike by the Fire Brigades Union (FBU).
John Roberts, from SYFS, said: "The teams will have limited training which will be very basic fire fighting."
John Gilliver, from the FBU, said fire fighting was a dangerous job and needed proper training.
The FBU is currently in a dispute with the government over proposed changes to pensions. A strike ballot has not yet been called.
The adverts, placed in local newspapers, said contingency firefighters would be paid £10 per hour during training periods and £150 per shift worked.
Recruits would be contracted to work only when required and there would be no guarantee of future work, they said.
Mr Roberts, SYFS's assistant chief fire officer, said: "We would prefer not to be in this position.
"We do have to take reasonable steps to have fire cover in the event of a strike."
The service said it could not be sure of the numbers of contingency firefighters needed.
Mr Roberts said the force had also written to retired firefighters as a precaution.
Mr Gilliver, secretary of the South Yorkshire FBU called for the government to get round the negotiating table and resolve the issue.
"It is an extremely dangerous job, directly in the line of fire.
"Firefighters need to train properly and have experience. That's what keeps us alive," he added.
He also said it was "immoral" to call on retired firefighters in the event of a strike.
Traditionally, the army's fire service has been used to cover gaps in a brigade's provision due to strikes.
However, legislation passed in 2004 means that is no longer allowed.