Sheffield 'gas blast' victim still in hospital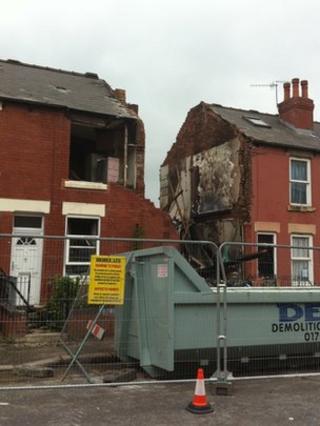 A man injured in a suspected gas blast that destroyed his home and damaged two others is likely to remain in hospital for several days, police have said.
The 36-year-old tenant suffered facial burns and cuts in the explosion at the mid-terrace property in Dundas Road, Tinsley, in Sheffield, on Wednesday.
An investigation into the cause will begin on Friday. South Yorkshire Police has refused to rule out foul play.
A woman and two children were treated after apparently inhaling smoke.
A police spokesperson said "[The tenant] is likely to be in hospital for several more days.
"South Yorkshire Police will lead a multi-agency investigation, including the Health and Safety Executive and South Yorkshire Fire & Rescue, of the scene.
"This will also involve scenes of crime officers as a criminal element has not yet been ruled out of the inquiry.
"Officers have already been exploring the possibility that work was being carried out on the gas supply."
A 150m (500ft) cordon was put in place around the property following the explosion, which happened just after 09:00 BST, and neighbouring homes were evacuated.
Shelter was provided for about 50 people at a nearby school during the day before they were allowed to return home.
One man had to spend the night in a hotel after his property was deemed unsafe to go back to.
Demolition experts from Sheffield City Council have begun work to remove an unstable wall at the site of the destroyed property and make the area safe.