Funeral for Hi-de-Hi! star Paul Shane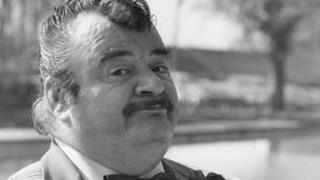 The funeral for Hi-de-Hi! star Paul Shane has been held in South Yorkshire.
The 72-year-old performer, who played Ted Bovis in the hit 1980s BBC sitcom, died in a hospice in Rotherham earlier this month after a short illness.
The actor, whose real name was George Frederick Speight, leaves behind three daughters and six grandchildren. His wife died in 2001.
Canon David Bliss said the funeral at Rotherham Minster was a "celebration and chance to say thanks".
'Bye-de-bye'
Mr Bliss, the vicar of Rotherham, added it was a "great honour" to lead the funeral, which celebrated a life of "tremendous joy and happiness".
Inside the minster were some of Shane's co-stars, including Jeffrey Holland, Su Pollard and Ruth Madoc, while a crowd of hundreds gathered outside.
Yellow and white flowers in the hearse spelled out "Bye-de-bye" in homage to the show that made Shane a household name.
Shane's Ted Bovis costume was hanging next to a photograph of the character at the service.
In a eulogy to his longstanding showbiz friend, Holland said: "Thanks for all those wonderful times, but most of all, thank you for the fun."
The actor, who played Bovis's sidekick Spike, said he worked with Shane for 18 years.
"In all that time, the one thing that sticks in my mind is fun," he told the congregation.
'Really loved'
And he led them in a rendition of the show's "Hi-de-Hi!, Ho-de-Ho!" catchphrase, saying: "Let's have it one more time for Shaney".
Outside, Pollard said: "He would have loved today.
"He would have thought: 'All these people, I must have done something right'."
She added: "He was just really loved. What a great, great day for it."
As well as his role in Hi-de-Hi!, a long-running television series set in a holiday camp, Shane went on to appear in the sitcom You Rang, M'Lord? alongside some of his Hi-de-Hi! co-stars.
He also acted in another sitcom Oh, Doctor Beeching, again alongside some of the Hi-de-Hi! cast.