South Yorkshire authorities attacked by MPs over grooming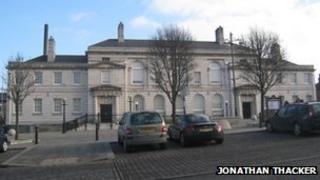 The authorities in South Yorkshire have been criticised by MPs for their handling of child sexual exploitation.
Rotherham Council was described as "inexcusably slow", while South Yorkshire Police was said to have "let down" victims of grooming.
MPs also criticised Police and Crime Commissioner (PCC) Shaun Wright and Rotherham's director of Children and Young Persons' Services Joyce Thacker.
A spokesperson for South Yorkshire Police said "lessons had been learnt".
In November 2010 five Rotherham men were jailed for sexual offences against under-age girls.
The abuse came to light after an investigation by The Times, which later claimed it had evidence that agencies were aware of extensive and co-ordinated abuse of white girls by some Asian men in Rotherham for which no-one had been prosecuted.
'Lack of prosecutions'
The Home Affairs Committee report heard evidence from South Yorkshire Police, Mrs Thacker and Mr Wright, who was cabinet member for Children and Young Persons' Services between 2005 and 2010.
It heard that since 2010 no further prosecutions had taken place.
Mrs Thacker told the inquiry "prosecution is the icing on the cake".
The report said her view that prosecution was of "secondary importance might, in part, explain why so few prosecutions have taken place in Rotherham".
Mr Wright was attacked for not meeting victims during his time at the council and since becoming the Labour PCC for Rotherham last year.
It said: "Considering the lack of prosecutions... we suggest Mr Wright may wish to take more of an interest in the victims then he has done previously."
In a statement, the commissioner said he did not believe it was "appropriate" for him to meet victims, saying it was "an invasion of their privacy and I am not qualified to do so", but adding that he was "happy" to do so.
'Extra detectives'
A spokesman for South Yorkshire Police said it accepted its previous services had "not been as strong as they are today", but said "this is an area of work where significant progress has been made within the last 12 months".
He said that since the MPs' inquiry concluded a 28-year-old man from Sheffield was jailed in May for five years for abusing a 14-year-old girl and six people had been charged with more than 70 offences linked to the sexual abuse of children.
He added that Mr Wright had recently sanctioned funding for 10 extra detectives dedicated to investigating the problem.
The report said it would "revisit this issue in a year's time to examine whether the prosecution of such crimes has improved".
South Yorkshire Police said at present more than 60 investigations are taking place across South Yorkshire and about 180 children countywide are being seen after showing signs of being "at risk" of abuse.
A spokeswoman for Rotherham Council said the authority needed "time to consider and reflect" on the issues raised in the report.