Missing girl Lorna Vickerage thought to be with man, 35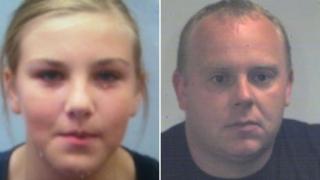 Police are searching for a missing schoolgirl who is believed to be with a 35-year-old man.
Lorna Vickerage, 14, from Doncaster, was last seen on Monday at Outwood Academy in Adwick wearing her school uniform, South Yorkshire Police said.
A force spokesman said she was believed to have been in the Highfields area with John Bush and is likely to have changed clothes.
Anyone with information about their whereabouts is urged to call 101.
A police spokesman said: "Lorna and John are thought to have been in the Highfields area over the last two days.
"They are both known to frequent the Askern, Adwick, Woodlands and Highfields areas of Doncaster."
The teenager is described as white, slim, about 5ft 4in tall with long, straight, thick blonde hair.
Mr Bush is described as white and stocky with receding dark blonde hair.