Stainforth landslip rail line to reopen in July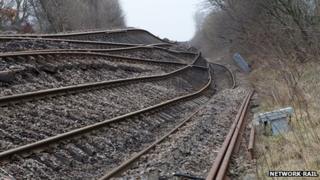 A railway line closed because a landslip caused the track to be pushed upward is to reopen, Network Rail said.
Following repairs, a reduced train service would run again on the line at Stainforth's Hatfield Colliery, South Yorkshire from Monday, 8 July.
Network Rail said work would continue with engineers on site until about the end of the year.
Services between Doncaster, Scunthorpe and Cleethorpes were affected by the incident in February.
Network Rail said the full passenger timetable would run from Monday, 29 July.
Phil Verster, of Network Rail, said the closed line had forced passengers on to buses for almost six months and freight trains to take lengthy diversions.
Passenger services should start with Northern Rail and First Trans Pennine Express running trains supplemented with a bus service, said Network Rail.
The organisation, responsible for the railway infrastructure, said one million cubic metres of collapsed spoil heap had been removed and the heaps would continue to be monitored.