Sheffield Arena closes for £3.5m refurbishment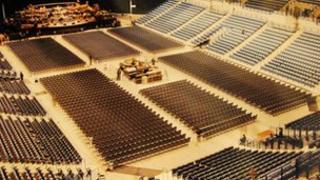 Sheffield Arena has closed for a multi-million pound refurbishment for the first time since it opened in 1991.
The £3.5m project will see the construction of a new roof and the replacement of all 12,500 seats.
The venue expects to face increased competition when the new £60m Leeds Arena opens in September.
Operator, Sheffield International Venues (SIV), said the work would "refresh" the arena ahead of the opening of the Leeds venue.
Steve Brailey, chief executive of SIV, said: "Over 700,000 people visited the Sheffield Arena last year.
"With the improvements currently under way, it is hoped this figure will rise and we will not lose customers to local rival Leeds Arena."
The work, which also includes the installation of additional toilets, new lighting and refurbished catering outlets, is expected to be completed by September.