Neolithic axe head in new museum Experience Barnsley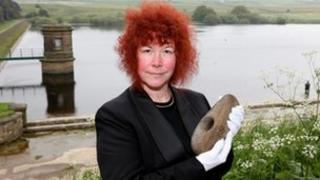 A new £4.3m museum has opened in South Yorkshire containing a 5,000-year-old axe head that was used as a doorstop before being put in a shed.
Experience Barnsley is based in the 1930s town hall and Barnsley Council said it was the town's first museum.
The axe head will be one of the oldest exhibits in the free attraction.
Joann Fletcher, the collection's archaeological consultant, said: "It also allows us to date Barnsley's history back thousands of years."
The Neolithic axe head was discovered in the 1920s when Scout Dyke reservoir was built near Penistone, about 8 miles (13km) outside Barnsley.
'Push it back'
It was kept at Barnsley Corporation water works until it was taken home by Bob Wadsworth's dad in the 1970s.
Mr Wadsworth said: "When I heard about the museum wanting artefacts I thought they might want to add this to the display so people could appreciate it."
Prof Fletcher said: "The history of Barnsley only dated back to early medieval times before this but we can now push it back much further than that."
The exhibits also tell the story of Barnsley's sporting and industrial past including its mining history.
The museum also contains a children's roundabout that operated in Barnsley Market for decades.
The roundabout has been loaned by Stewart Robinson, whose family has run funfairs for many years.
The museum received more than £2.6m from the Heritage Lottery Fund.