Sheffield Next store refusal overturned by government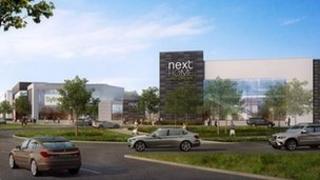 A decision to reject plans for an out-of-town Next store in Sheffield has been overturned by the government.
Next wanted to build a £10m home store near the Meadowhall centre, but the council rejected it because it wants city centre investment.
British Land, acting for Next, appealed against the council decision and a public inquiry overturned it.
Responding to the decision, Sheffield council said it would "move on and welcome Next" into the city.
The Planning Inspectorate said the decision to allow the home and garden store to be built was made on Wednesday.
A spokesman for British Land said the decision meant work could proceed on the Vulcan Road site as soon as possible, with completion expected by the end of 2014.
"British Land is committed to Sheffield and its future and will continue to support retail development, employment and investment in this dynamic and vibrant city," he said.
'Sensible decision'
Sheffield City Council previously rejected the plan and said the development went against planning policy and would have a negative impact on the city centre.
The company appealed on the grounds the type of store they have proposed, selling fitted kitchens and do-it-yourself goods, would not be suitable for a city centre location and would be well integrated into the surrounding area.
Les Sturch, the council's director of regeneration and development services, said the issue was never about not wanting the store.
"This was about whether Next Home and Garden should be in the city centre or out of town."
He added: "The council believes that a thriving commercial and civic city centre is key to growing the wider economy, and the city centre is often the first priority for suitable new business."
Richard Wright, executive director of Sheffield Chamber of Commerce, said allowing the store to be built was a "sensible decision".
"As a chamber we are still very committed to helping develop a distinctive city centre offer and we do not believe this decision in any way compromises that," he said.
Nick Clegg, Lib Dem Sheffield Hallam MP and Deputy Prime Minister, said the decision by the Planning Inspectorate was "a wake-up call for Sheffield's Labour councillors to drop their anti-business ways".
"It's a shame developers were forced to go through an unnecessary and expensive legal battle which has cost local taxpayers and sent out a damaging message to other potential businesses looking for places to invest in," he added.