Is Doncaster's children's service experiment the key to solving failings?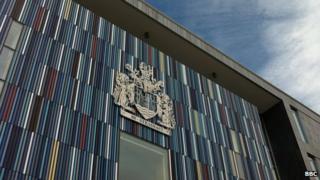 The news that an independent trust will be parachuted in to try and resurrect Doncaster's children's services prompted the town's mayor Ros Jones to say "We don't need experiments".
But if the "culture of failure" that saw seven children die and two young brothers brutally tortured by their contemporaries is to be eradicated, then some believe fresh ideas are needed.
The recommendation to install a "tailor-made" trust for up to 10 years was made by academic Julian Le Grand, Dame Moira Gibb, chair of the Social Work Reform Board, and Alan Wood, the director of children's services in Hackney.
Their report points to four existing organisations that have been created to help authorities in London, Hull and Staffordshire deliver their services.
Hackney - The Learning Trust
Mr Wood, who will be appointed to oversee the transition to the new body in Doncaster, has first hand experience of experimentation.
Since 2002 he has been the chief executive of the not-for-profit The Hackney Learning Trust (HLT), one of the four "alternative delivery models".
The HLT was launched to provide education services in the borough after the local council was stripped of its powers following a series of damning inspection reports.
Hackney Borough Council was judged not to be capable of improving itself and the HLT was put in place to tackle some of the worst exam results in the English education system.
In 2012 the local authority took back control of its education services with children in the borough achieving above the national average.
Councillor Rita Krishna said: "The trust enabled a forensic focus on - and committed resource to - an aspect of children's services which, at that time, was adjudged in need of rapid improvement, and improvement in a manner which would sustain high quality once achieved."
Doncaster could "take heart" from Hackney's experiences, she said.
She pointed out HLT had been a "contractor of the council" and that, as a not-for-profit organisation, suggestions of privatisation "cannot reasonably be levelled against the concept".
Staffordshire - Evolve YP
Professor Le Grand's report also highlighted Evolve YP, a "public service mutual" set up in 2009 by Staffordshire County Council.
Evolve YP provides support to around 150 young people either in care or leaving the care system in Newcastle-under-Lyme and the Staffordshire Moorlands.
It is part-owned by social workers and the council, with social workers having a 52% stake, and was started as part of a pilot programme introduced by the government.
Under the scheme staff provide their own emergency duty service and have designed child friendly office space.
When it began, 10 council employees left the authority to join Evolve YP, but Robbie Marshall, councillor for health and wellbeing at Staffordshire County Council, said staff had remained "highly committed and motivated".
He said it had undertaken "interesting and innovative work" during the pilot period, though it was too early to judge it against in-house services.
Kingston and Richmond - Achieving for Children
Also flagged up in the new report is a plan by councils in the London boroughs of Kingston and Richmond to unify their children's services.
The authorities plan to create a company called Achieving for Children, which will become operational later this year.
Lord True, leader of Richmond Council, said the proposal would result in both savings and the councils being able to "maximise the effectiveness of our resources".
"We believe the new enterprise will be a major step forward to sustaining high quality services for residents in both boroughs," he said.
Hull - City Health Care Partnership Community Interest Company
In Hull the City Health Care Partnership Community Interest Company was set up in June 2010, having separated from the commissioning organisation, then NHS Hull.
It provides health and social care to more than 500,000 people in Hull and the East Riding of Yorkshire, including district nursing, sexual health, and minor injury units.
The organisation employs more than 1,400 people with all the permanent staff offered a £1 share.
Chief executive Andrew Burnell said that being an employee-owned organisation was "fundamental" to its success as staff felt they had a "stake in the business".
It will be several years before we know what the effects in Doncaster will be and if the experiment is working as Education Secretary Michael Gove has said an initial review of the independent trust, due to start work in 2014, will not take place for five years.