South Yorkshire Police staff held on helicopter logbook theft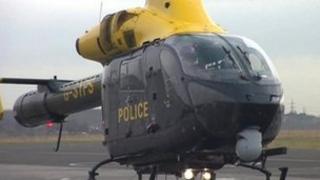 Two members of staff at South Yorkshire Police have been arrested on suspicion of stealing the force helicopter's logbook.
It is understood one of those arrested is a police officer and the other a member of staff. Both have been released on bail.
The helicopter has not been used for five months due to "mechanical faults".
Earlier this month, the force said it needed to recreate the aircraft's logbook which had "gone missing".
The helicopter has not been used since 28 January and the force said it was undergoing extensive repair work in Gloucester.
The new National Police Air Service (NPAS) has based a temporary replacement aircraft in Sheffield since it took over air support on 1 April.
In a statement, South Yorkshire Police said the arrests were "part of an ongoing criminal investigation".