South Yorkshire Police refers itself over Stephen Lawrence probe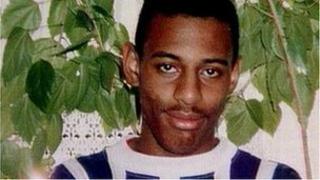 South Yorkshire Police has said it may have spied on people who went to a meeting where a member of Stephen Lawrence's family was due to speak.
The Home Office asked forces to check records related to the Macpherson Inquiry, which examined failings in the murder investigation.
It follows concerns officers tried to discredit the Lawrence family.
South Yorkshire Police has voluntarily referred itself to the Independent Police Complaints Commission (IPCC).
'Routinely gathered intelligence'
In a statement, the force said it had never carried out intelligence or surveillance activity "in respect of the Macpherson Inquiry, Stephen Lawrence's family or any others connected to the inquiry or the family".
But it said it may have gathered intelligence on people who attended a public meeting in Sheffield in the 1990s where a member of the Lawrence family was due to speak.
"In line with a National Policing Intelligence requirement at the time, officers routinely gathered intelligence on groups and individuals in South Yorkshire who were suspected of being involved in extreme activity or holding extreme views that may have caused a risk to communities," the force said.
The Macpherson Inquiry uncovered failings in the investigation of the crime.
At hearings across the country, local race relations organisations, victim support groups, probation services and police gave evidence on problems with race crimes and how they were tackled.
The IPCC has been asked to investigate concerns the then assistant chief constable of West Yorkshire Police, Sir Norman Bettison, tried to influence the way a key witness gave evidence to the inquiry.
Greater Manchester Police has also referred itself to the IPCC after it was alleged its Special Branch sent a memo to officers asking for information on "groups or individuals" due to attend the inquiry in Manchester.
The IPCC is also looking into South Yorkshire Police's conduct during the so-called Battle of Orgreave during the 1984 miners' strike and in the aftermath of the Hillsborough disaster.