Sheffield recycling charity Reclaim fights to get back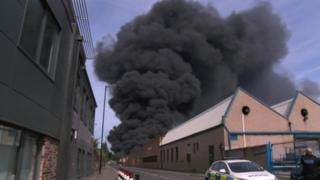 A recycling charity working with adults with learning disabilities has vowed to get "up and running" again after a huge blaze destroyed its premises.
The fire destroyed a building containing about 20 tonnes of plastic at Reclaim's plant in Sheffield, South Yorkshire, on Sunday.
At its height, a plume of smoke was visible for at least 20 miles (32km).
Up to 40 adult trainees with disabilities sort and recycle plastic and learn life-skills.
South Yorkshire Fire Service said the cause of the fire, in Attercliffe, was not yet known but investigations into the blaze were continuing.
The charity, Sheffield Reclamation Ltd, trades as Reclaim and moved into the building in Attercliffe in 2006. It was formed in 1991.
The charity's volunteers are determined to get back into the ruined building and get "up and running" for the adult trainees who have learning disabilities including autism and Down's Syndrome.
Annabel Johnson, one of the volunteers, said some of the trainees had been coming to work with the charity for 15 years and it was "part of their lives".
Hands on deck
Ms Johnson said: "The trainees need continuity and routine and our main concern is to get them back in.
"We are looking to rebuild as soon as possible and we need people to help us with hands on deck, cleaning up stuff."
She said the charity was urgently looking for volunteer tradesmen like plasterers and plumbers to help with rebuilding and local companies were being contacted and asked to donate any useful items.
The fire left part of an office block standing although it destroyed a purpose-built training area containing computers, furniture and cooking facilities, which was used to teach the trainees life skills.
The fire also destroyed the toilet block.
Ms Johnson said: "It's like starting again."
The charity said other businesses, including City Wholesale and M A Whites, were hit by the unexplained fire.