Sheffield Page Hall landlord licensing consultation launched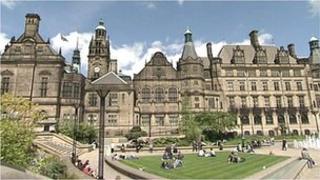 Landlords in Sheffield could be forced to apply for special licences to let property in an area of the city, the council has said.
The proposals, now up for public consultation, would require landlords to obtain a licence costing up to £750 per property to let in Page Hall.
The scheme would protect vulnerable tenants and the wider community, Sheffield City Council said.
But landlord Kash Walayat criticised the plans as a "money-making exercise".
Under the Housing Act 2004, councils are able to introduce selective licensing of private landlords.
'Clamp down'
As part of the proposed scheme in Sheffield, licensed landlords would have to prove they were a "fit and proper" person, the council said.
They would also be required to provide gas safety certificates for all their Page Hall properties as well as having clear tenancy agreements in place.
Harry Harpham, cabinet member for homes and neighbourhoods, said irresponsible landlords were on the increase, especially in Page Hall.
"It is hard to believe that some landlords don't even ask for references when they let out properties.
"Hopefully, by introducing selective licensing, we can clamp down on this minority of landlords who are causing such problems," he said.
A five-year licence would cost £500 per property for early payers, rising to £750 for landlords applying later.
Anyone found to be letting property in Page Hall without a licence could face a fine of up to £20,000.
'Increased rents'
But Mr Walayat, who lets property in Page Hall, warned a charge of up to £750 for a single property licence was too expensive.
"The landlords are going to try and recoup that, meaning increased rents in what is already a deprived area. Tenants will move out."
Landlord Wahid Nazir said the city council should instead consider a voluntary landlord licensing scheme.
"Obviously all the good landlords will all come in. The ones who aren't will stick out like a sore thumb," he said.
A final decision is expected to be made after the close of public consultation in September.