Jessica Ennis-Hill being 'pushed' out of Sheffield says coach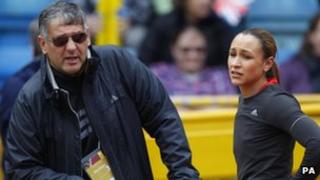 Olympic gold medallist Jessica Ennis-Hill could be forced to train outside Sheffield after the closure of the Don Valley Stadium, her coach said.
The council is demolishing the stadium in September as part of £50m budget cuts.
Her coach Toni Minichiello claimed a replacement city stadium was unlikely to be ready before Don Valley closed.
Sheffield City Council said there would be a "seamless transfer" between the two facilities.
The council announced it was closing the Don Valley Stadium to save £700,000 a year operating costs and repair works estimated at £1.6m.
Plans were announced to reopen the smaller Woodbourn Road stadium as a new home for athletics in Sheffield.
It was closed in 2011 and the council estimated the cost of refurbishing the Woodbourn Road stadium at £150,000, with a £70,000 a year running costs.
'No gap'
Mr Minichiello said he thought the Woodbourn Road stadium was "unlikely" to meet a "standard that would cater for all the athletic events".
He said the running track was up to standard, but claimed the facilities for javelin throwing and other parts of the heptathlon were not good enough and could force Ennis-Hill to seek alternative training venues.
He said: "There will be times when we have to pack our bags and go to other venues outside the city.
"Now, they may be for long periods of time or short periods of time.
"I think it's sad when you consider Sheffield was the first city of sport."
"Pushing Jess out of the city," added Mr Minichiello.
"I would like to thank the council for that little gesture. It's good to win an Olympic gold medal and be asked 'Could you please go train somewhere else as we haven't got anything for you'."
Councillor Isobel Bowler, Sheffield City Council cabinet member for culture, sport and leisure, said: "I can assure people there will be no gap between Don Valley Stadium closing and Woodbourn Road reopening.
"It will be a seamless transfer from one venue to another and all athletes will be able to continue their training uninterrupted."
A council spokeswoman refuted Mr Minichiello's claims Ennis-Hill would be forced to train outside the city, saying work at Woodbourn Road would be completed in time and meet the standards required.
She said the council was "happy to meet [Mr Minichiello] to reassure him" and would be offering to meet with him.