World's oldest football teams play in derby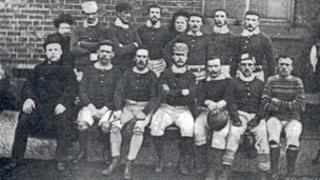 The world's oldest football clubs have gone head to head in Derbyshire to celebrate the first derby ever played.
Sheffield FC and Hallam FC first clashed on 26 December 1860 with the match played under new rules drawn up by the founders of Sheffield FC.
The 153rd derby was won 4-2 by Sheffield FC at their home ground in Dronfield, north-east Derbyshire.
Organisers said the aim was to "celebrate the heritage of football".
Chairman of Sheffield FC, Richard Tims, said the club had been founded in 1857.
"Three years later we pursued another cricket club to form a football club, which was Hallam FC, and we played them in a challenge match and the oldest derby has been continuing ever since."
Mr Tims said fans from all over the world attended the match including some from Nuremberg and Munich in Germany and Genoa in Italy.
Hallam FC was founded in 1860 and the club still play at their original ground at Sandygate Road.
The site is the Guinness World Record holder for being the oldest football ground in the world.
The match was played under the so-called "Sheffield Rules" which became the basis of the modern game, introducing elements such as throw-ins and corner kicks.