Rotherham farm dairy cows 'in agony' after cable theft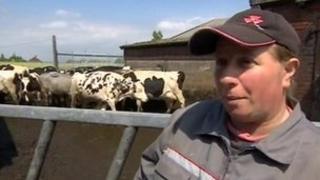 A farmer was left with a herd of 85 cows "desperately" needing milking after thieves stole copper cable from an overhead electricity wire.
Helen Smith's animals were not milked for 17 hours after the overnight theft affected Brecks Lane farm in Rotherham.
Power was restored to the farm at about 15:00 BST and milking began shortly afterwards.
Ms Smith said: "The cows would have been in agony because of being so full with milk."
'Every penny counts'
The animals are usually milked every eight hours, she said.
The cows were last milked on Wednesday night and had been due to be milked again at 06:00 BST but that was not possible because of the overnight theft, said Ms Smith.
Ms Smith's mother Olga Smith, also a farmer, said the effect of the theft was estimated so far to have cost the business £10,000.
"Every penny counts. Farmers are having a tough enough time as it is," she said.
Mark Hickling, from Northern Power Grid, said the thieves had risked their lives to steal the copper cable.
"They're up in the air about 30ft (9.1m), they've cut them live and then they've stolen some of the cable and left others hanging down - still live. It's really serious," he said.