Barnsley Council cuts prompt own litter pick-up call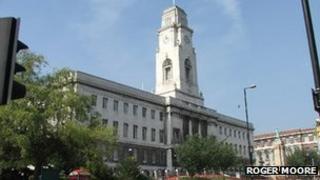 Council cuts in Barnsley have prompted a call for people to do their own litter clean-ups.
It is one of the ways the authority is proposing to save more than £18m in the next financial year.
Other measures include the closure of all public toilets across the district, except those in the town centre.
Council leader Steve Houghton said faced with a "tsunami" of government cuts, cleansing services would not be the same standard as the past.
Under the plan to cut £750,000 from the council's environmental budget, "street cleansing operative" posts would be reduced from 36 to eight.
The council said: "Many litter bins, and all dog bins, will continue to be emptied as usual... more emphasis will be on local people to help keep their communities clean".
Mr Houghton said the authority was looking at the issue of insurance as people had raised the "fear of accidents and other problems" as a reason to not volunteer.
Other cost-cutting measures set for approval include a short-term reduction in road maintenance, reduced grass cutting services and reducing play area maintenance.