Sheffield Wednesday player's 'victim unsure who hit him'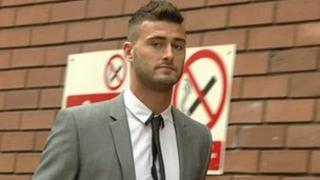 A man who identified a Championship footballer as the man who fractured his jaw and cheek in a nightclub attack has told a jury he later changed his mind.
Reece Hall pointed out Sheffield Wednesday's Gary Madine as his alleged attacker, but four weeks later told police he was not sure it was him.
Prosecutors allege Mr Hall is one of two men assaulted by the 23-year-old striker in unprovoked attacks in 2012.
Mr Madine, who is on trial at Leeds Crown Court, denies the charges.
It is alleged Mr Madine punched bricklayer Mr Hall in the Viper Room, in Sheffield city centre, on 11 March 2012 after asking him who he supported.
The player, originally from Gateshead, was arrested after Mr Hall pointed him out to police.
Friend 'jogged memory'
Asked if it was that man who punched him, he told the jury: "I don't think he did."
He said he made a fresh statement to police when the events came back to him.
He has now told the court a friend told him he had identified the wrong man.
Mr Hall told the court: "He made me jog my memory. He didn't influence my statement."
He told the jury he did not know who hit him.
"I don't want anyone to get done if they haven't done it," Mr Hall said.
'Arrogant, violent thug'
Mr Madine is alleged to have attacked Mr Hall while on bail for an earlier alleged assault.
Prosecutors say the footballer punched Owls fan Daniel Beresford in the Paris Bar, also in the city centre, in February 2012, breaking his nose.
Ian West, prosecuting, told a jury at Leeds Crown Court on Wednesday the centre forward was "an arrogant, violent thug" when drunk.
Mr Madine denies causing grievous bodily harm against Mr Beresford, and causing grievous bodily harm with intent against Mr Hall.
The trial continues.