Appeal fund for Doncaster Battle of Britain memorial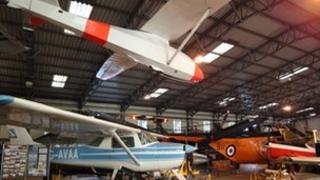 An appeal has started to raise £600,000 to build a monument in Doncaster to honour air crew who took part in the Battle of Britain.
The South Yorkshire Aircraft Museum has already been chosen as the site for the memorial.
The museum was picked as the most appropriate place for a northern tribute because it is the former site of World War II airbase RAF Doncaster.
The monument will list the name of all those who took part in the battle.
The Battle of Britain was the German air force's attempt to gain air superiority over the RAF from July to September 1940. Their ultimate failure was one of the turning points of World War II and prevented Germany from invading Britain.
The town of Doncaster has strong links to the battle, with 616 Squadron being based at RAF Doncaster during part of the conflict.
Peter Davies, chairman of the Northern Battle of Britain Appeal Committee, said: "The name of every victim and survivor will be listed on the northern monument to recognise the incredible contribution each one made to secure freedom for Britain and her allies."
Organisers said they hoped the monument would become a focus for educational visits.