Catcliffe Glass Cone to have £47,000 of restoration work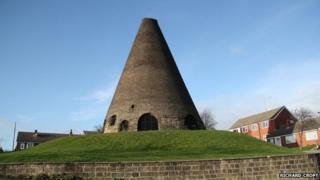 Plans to repair and preserve one of the UK's only remaining glass cones have been welcomed by English Heritage.
The Catcliffe Glass Cone in Rotherham was built in about 1740 and is the oldest structure of its kind in Europe.
It was closed to the public in 2006, because bricks were falling from the top, and a report commissioned the following year said it would cost £641,000 to restore.
Rotherham Council has now set aside about £47,000 to begin the work.
'Gradually deteriorating'
Neil Redfern from English Heritage said his organisation had been working with the authority to "make the most of the money".
"We will start at the top [of the cone] and work down until we run out of money," he said.
"It's an evocative little site, which you can see from the M1 motorway, that sits in a sea of modern houses as an amazing testament to ingenuity and invention."
The cone was part of William Fenney's glassworks and was used in the manufacture of glass until the 1880s.
"It's not just the history of the thing itself, but the history of the community around it," Mr Redfern said.
"During the First World War, prisoners of war were held there, and it was used as a children's canteen during the general strike of 1926."
Conservation architect Paul Hewitt, who carried out the survey of the cone in 2007, said it was "gradually deteriorating" and needed to be preserved for the future.
The Catcliffe Glass Cone is a scheduled ancient monument which means the council has to apply for consent from the government before carrying out the work.