Sheffield bus crash-for-cash gang 'highly-organised'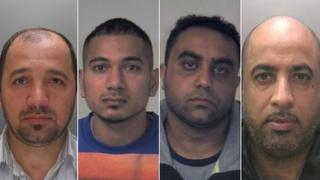 A gang that deliberately caused traffic collisions for money including one involving a bus carrying 26 passengers was "highly-organised", police say.
Four people have been convicted at Sheffield Crown Court for multiple fraudulent claims totalling £500,000. Seven others already pleaded guilty.
The bus driver in the incident, Adam Herbert, admitted involvement in the fraud conspiracy.
The gang will be sentenced over the crash-for-cash scams at a later date.
South Yorkshire Police said the fraud claims, including those for the bus crash, involved personal injury, vehicle damage and further claims relating to car hire.
Inquiries started after an apparently routine minor collision involving a bus and a Vauxhall Zafira in the Burngreave area of Sheffield, on 17 June, 2011.
The force said investigations led to a wider inquiry into the activities of the Sheffield-based accident claims company called City Claims 4 U, run by defendants Mohammed Omar Gulzar and Shoaib Nawaz.
A spokesman said they went on to identify suspects involved in ten incidents in Halifax, Sheffield and Rotherham.
He said a series of warrants were executed at a number of addresses linked to City Claims 4 U after officers received information that it had been submitting fraudulent claims to insurance companies.
These claims were boosted by false claims for the hiring out of replacement vehicles provided by CCC Hire 4 U - another company owned by Gulzar.
Dc Mark Wootton, who led the investigation, said: "This was a professionally-planned, highly-organised group of individuals who set out to defraud a number of insurance companies by making deliberate false claims and pocketing the money for themselves.
"The fraud involved false claims for personal injury, vehicle damage, over-inflated recovery and storage costs, together with extortionate and false claims for hire vehicles from CCC Hire 4 U, a company owned and run by Mohammed Omar Gulzar."
South Yorkshire Police's Economic Crime Unit manager, Graham Wragg said: "The police have a duty to protect life and while some of the accidents were totally fictitious, others involved members of the public and placed them in danger.
Officers said they worked closely with the Insurance Fraud Bureau (IFB), a London-based industry organisation, and FirstGroup to identify and gather evidence.
IFB director Ben Fletcher said: "Stage managing crashes is reckless - it is gambling with the lives of innocent people - particularly when a 12-tonne bus is involved."
Dave Alexander, regional managing director for First UK Bus in the North Region, said: "To have potentially put people's lives at risk by staging a collision was dangerous, callous and quite unbelievable."