Doncaster railway sleeper factory opens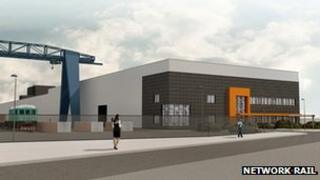 A new railway sleeper factory has been officially opened in South Yorkshire, creating about 45 jobs.
The factory, in Ten Pound Walk, Doncaster, will supply around 400,000 concrete sleepers for Network Rail.
Transport Secretary Patrick McLoughlin opened the plant, which is to be operated by Trackwork Moll.
A Network Rail spokesman said: "Doncaster was chosen for the site of the factory because of its central location and excellent rail links."
Trackwork Moll is jointly owned by Doncaster-based Trackwork and German firm Leonhard Moll.
The company has a contract to supply sleepers to Network Rail, which owns the factory, for the next 10 years.