Fire-hit Sheffield Ski Village produces Olympians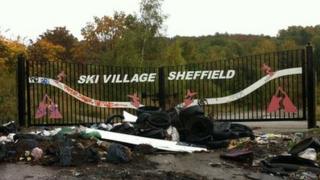 A dry ski slope in Yorkshire which burnt down in 2012 is an unlikely place to have produced some of Great Britain's skiing Olympians.
But half of Team GB's freestyle skiers at the 2014 Winter Olympics, which is starting in Sochi, Russia, learned their tricks at Sheffield Ski Village.
The ski village was destroyed by fire in 2012, the year before demolition began at the nearby Don Valley Stadium where heptathlete Jessica Ennis-Hill trained in the run-up to winning Olympic gold.
James Woods, 21, James Machon, 23, and Katie Summerhayes, 18, all trained at Sheffield Ski Village and they make up half of Team GB's Freestyle Skiing team (Freeski).
But now it has gone, there is a question mark over where South Yorkshire's next generation of Olympians will come from.
The story began in 1988 when the city council donated a patch of land on a disused quarry next to a tip.
Sheffield Ski Village, a collection of spiky plastic ski slopes overlooking the city, was built a few years before the 1991 World Student Games took place in the city.
Over the next two decades, the humble slopes at the ski village gave young people the time and space to practice turns and flips on the park.
Norman and Molly Gill, youth workers and skiing enthusiasts, started the Sharks Ski Club when the ski village opened in 1988.
They wanted to make skiing accessible and affordable for everyone.
"So much talent came from Sheffield because the kids could stay after the club to play and practice on ramps and bumps," said Ms Gill. "That's how they learnt their freeski tricks,"
"Kids from [Burngreave and Shirecliffe] estates came to watch. If we saw them a few times, we'd give them a go. That's how a lot of them got started."
Sochi 2014 medal hopeful James Woods was last season's number one for slope style freeski and won silver at the 2013 World Cup.
"None of my family skied but there was a free ski and snowboard lesson in the paper, so I went and gave it a bash," said Woods.
"I loved it, it was awesome, and the cheapest way to do it for a year was to join the Sharks Ski Club."
Katie Summerhayes started skiing aged six and was taken to the Ski Village every Saturday by her dad who saw the white slopes while working at the top of a tower block in Sheffield.
Pat Sharples, head coach of Team GB's Freeski team, said the athletes' success was due to the ski village.
"Sheffield Ski Village had to be one of the UK's standout slopes for me," said Mr Sharples.
"It was the first place that really invested in a full freestyle arena and the first dry slope in the UK to have a half pipe.
"The Sharks wasn't just a great sports club, it nurtured extraordinary talent too," he said.
"To succeed in alpine skiing, you have to have a lot of money behind you. But with freestyle skiing, no way. From a hillside in Sheffield came the extreme skiing of the Chamonix Valley."
So what has become of Sheffield's skiing industry now?
The 16.5 acre Ski Village site at Vale Road is currently owned by Kevin Pullan, who has applied to build 70 houses there.
It has suffered several fires since April 2012, some of which were arson, and Sheffield Council has condemned it as "a hot spot for vandalism and fly-tipping".
The Sharks Ski Club has moved to Xscape snowdome in Castleford and they at least are doing well.
"It's accelerated, blossomed this year," said coach Norman Gill. "Now we've found a new home, we've also found a new direction."
However, Ms Gill said the character of the sport had already changed with the closure of the ski village.
"It's not accessible to everyone now," she said.
"Travelling to Castleford makes it far more expensive, and in my opinion skiing is turning back into an elitist sport. I wish it could start again in Sheffield.
"The Olympic Legacy might have been good for London but all it's done for Sheffield is to close its best sporting venues because the council can't afford to keep them open."
So while the combination of Sheffield Ski Village, the Sharks Ski Club and a bunch of local kids produced an unexpected centre of excellence, the Ski Village is unlikely to produce champions again.
Katie Summerhayes' dad, Richard, said: "It'll never happen again. Where's the next generation going to come from? It's all died here."