Alan Greaves murder: Jonathan Bowling loses sentence appeal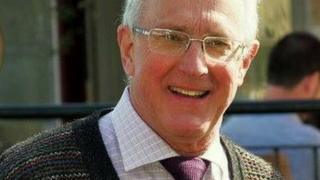 A man who killed an organist who was walking to church has lost an appeal against his minimum 25-year tariff.
Jonathan Bowling was jailed for life last July for the murder of Alan Greaves, 68, in Sheffield.
Bowling, 22, attacked the lay preacher with a pick-axe handle as he walked to play the organ at St Saviour's Church in High Green, on 24 December 2012.
The father-of-four died three days later in hospital from serious head injuries.
Bowling pleaded guilty to murder at Sheffield Crown Court last July, while Ashley Foster, 22, of Wesley Road, High Green was sentenced to nine years for manslaughter after a jury cleared him of murder.
During Foster's trial, prosecutors said the pair stalked the streets of High Green looking for someone to attack and if they had not killed Mr Greaves it would have been someone else.
Speaking at the time of Bowling's sentencing, Mr Greaves' widow Maureen said: "To think that Jonathan's got 25 minimum and to think he'll probably never come out, I really am wonderfully pleased with the result."
Judges at the Court of Appeal said there was "no basis whatsoever" for Bowling's appeal and if he had not pleaded guilty he would have been jailed for a minimum of 30 years.
Lord Chief Justice Lord Thomas, Mr Justice Silber and Mr Justice Globe said Mrs Greaves' personal statement made clear the devastating effect the murder had on her and the rest of the family.
Lord Thomas said: "In our judgment, the [trial] judge came to the perfectly correct conclusion.
"This was without doubt a vicious, pre-planned attack on a vulnerable man using a weapon and on a Christmas Eve.
"His plea of guilty was his only mitigation.
"We have no doubt whatever that the minimum term of 25 years less time on remand was entirely appropriate, would safeguard the public and ensure there was just punishment and retribution for this terrible crime."