Sheffield street stabbing death: Orrett Duncan jailed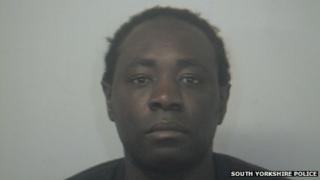 A man has been jailed for 12 years for fatally stabbing a 45-year-old during an argument in the street.
Orrett Duncan, 40, of Harborough Close, Sheffield, attacked Calvin Clarke in September near the city's Castle Market. He died four days later.
Duncan admitted manslaughter and was sentenced at Sheffield Crown Court.
Speaking after the case, South Yorkshire Police said Mr Clarke was stabbed numerous times in the chest in front of several members of the public.
Det Insp Ian Fidler, who led the investigation, said: "This was a situation where both parties carried knives.
"As a result, what started out as an altercation in the street, in broad daylight, has ended in tragedy.
"One man has died and the other has now been handed a lengthy custodial sentence.
"It must also be stressed that there was a risk to members of the public and those who were innocently trying to go about their business, on an ordinary weekday afternoon."
Duncan was initially charged with murder, which he denied.
The Crown Prosecution Service said it had accepted his plea of manslaughter.