Nether Haugh B6089 road crashes 'could costs lives'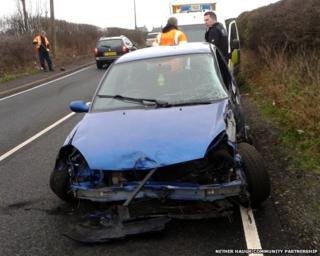 Residents living on a road which has seen 14 crashes since January fear lives could be lost unless safety measures are improved.
The crashes are said to have taken place on a half-mile stretch of Stubbin Road in Nether Haugh near Rotherham.
Rotherham Council said while there had been a number of accidents on the road, no-one had been injured.
However, one homeowner said his house had been hit by vehicles five times in the past two years.
Resident David Lee said: "It's dangerous for anyone walking on the pavement.
"If there's a person between a 200-year-old stone wall and a car, they wouldn't just be injured, they would be killed."
Residents said 14 incidents between 1 January and 15 February on the B6089 also included two separate crashes into the same wall, two cars ploughing through hedges into fields, vehicles colliding on bends and a cyclist being knocked over by a car.
Ted Grayson said vehicles have smashed through his garden wall four times this year.
He said: "[My] garden is a no-go area, we don't use it.
"What happens here is a regular thing, I've had several near misses with cars, I've nearly been wiped out a number of times."
Campaigners in the village want the 30mph road to be fitted with speed cameras and have taken to Twitter to highlight their fears.
Mr Lee added: "We have spoken to the council about putting in speed cameras and they won't do it because it doesn't meet the criteria.
"It's silly waiting for someone to lose their life before installing a speed camera. It's the wrong way around."
Rotherham Council said it had already installed warning signs and reduced the speed limit from 60mph to 40mph on the approach to the village.
A spokesman said in view of recent incidents, an immediate survey would be undertaken to evaluate the current condition of the road.