Mexborough explosives-find prompts evacuations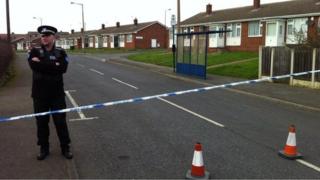 A 55-year-old man has been arrested after explosives were found at a house in South Yorkshire.
A 330ft (100m) cordon has been put in place around the property on Chestnut Grove, Mexborough and about 50 homes have been evacuated, police said.
The army bomb disposal unit and firefighters are also at the scene.
Supt Liz Watson said there was "nothing linking it to terrorism" and it is thought the suspect may have been making fireworks.
Ms Watson said a man, who lives locally, was being questioned on suspicion of possessing explosives for an unlawful purpose.
'Frustrating for me'
"We had some information that [a man had] purchased some materials that could be used to make explosives," she said.
"We've got specialist experts, military bomb disposal experts looking at the powders and substances in [the house].
"We think it's a case of someone that's been making fireworks but until we conduct the investigation and assess exactly what the materials are we're not clear on his exact intent."
Doncaster Council has set up a rest centre at Mexborough Day Centre for residents, who are expected to be able to return to their homes later.
Kathryn Pearson, who lives on Elm Road within the affected area, said: "At 10 this morning the policeman putting the tape up told me I had to evacuate my house for up to 24 hours - and that was that.
"It must be something serious but obviously it's frustrating for me."